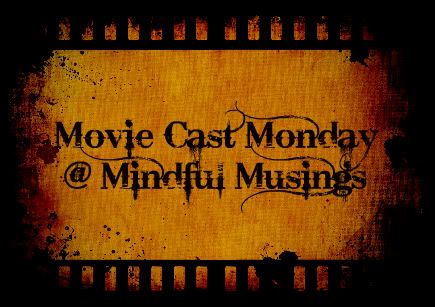 Natalie at Mindful Musings has this meme in which you create fantasy casts for books of your choice. The rules are as follows:
1) Create your own cast for an upcoming book-to-movie adaptation OR pick a book you'd like to see be turned into a movie and choose a cast.
2) Post the book title, author, and summary.
3) Try to pick at least 3 of the main characters to cast.
This week's pick is...
The Red Tent
by Anita Diamant.
Her name is Dinah. In the Bible, her life is only hinted at in a brief and violent detour within the more familiar chapters about her father, Jacob, and his dozen sons in the Book of Genesis.

Told in Dinah's voice, this novel reveals the traditions and turmoil of ancient womanhood - the world of the red tent. It begins with the story of her mothers - Leah, Rachel, Zilpah, and Bilhah - the four wives of Jacob. They love Dinah and give her gifts that are to sustain her through a hard-working youth, a calling to midwifery, and a new home in a foreign land. Dinah's story reaches out from a remarkable period of early history and creates an intimate, immediate connection.

This book really should be adapted for a movie. The cast for the book is extensive, so I'll only pick from the more recognizeable characters.

Kristin Kreuk as Dinah
She is one of my favorite actresses, and after seeing the many sides of Lana Lang that she played on Smallville, I know that she would be an excellent choice for the narrator and main character of the novel.
He just looks the part of Jacob, who is described in the Bible has being kind of a "runt" compared to Esau, with not nearly as much hair. Jacob is also supposed to have a dual nature of being both charming and sneaky, which Franco has done in the Spiderman movies. He also must have some strength, since Jacob did wrestle an angel after all.

Juliana Margulies as Leah
While I am not overly familiar with this actress's work, I've seen her in commercials lately for her now show The Good Wife, and she looks like she would play a decent Leah as well as look the part of the oldest sister. Leah had to possess an inner strength and independence to survive as Jacob's first wife.
Rachel is known as the woman the Jacob loved from the moment he first saw her, and I see Weisz's beauty as appealing to Jacob. She also has some resemblance to Juliana Margulies and can pass as her younger sister in the movie.

Tiffany Dupont as Zilpah
Zilpah is one of the handmaids that is later given to Jacob as a wife to bear children for Leah. Tiffany Dupont played Esther in the movie One Night With the King (2006), which is one of my favorite movies of all time, so I felt I just had to include her in my list for this movie. She could easily also play Re-nefer, the Egyptian queen who took Dinah's son for her own, or Meryt, the midwife that Dinah worked with and befriended.
Keisha Castle-Hughes as Bilhah

Keisha played Mary in the Nativity Story (2006), so I thought she would be a good match for the younger of the two handmaids and fourth wife of Jacob. Her temperament would be similar to Rachel's and she would blend in well with the other three wives without being over-powering.