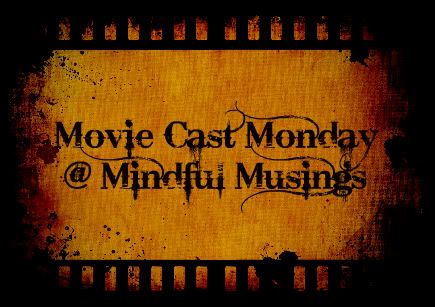 Natalie at Mindful Musings has this meme in which you create fantasy casts for books of your choice. The rules are as follows:
1) Create your own cast for an upcoming book-to-movie adaptation OR pick a book you'd like to see be turned into a movie and choose a cast.
2) Post the book title, author, and summary.
3) Try to pick at least 3 of the main characters to cast.
This week's pick is...
The Firebrand by Marion Zimmer Bradley

"Born of noble blood, Kassandra is gifted with the ability to see into the future—and her visions tell of a battle that will bring the wrath of the gods upon all of Greece. She has foreseen the fall of Troy, but no one believes Kassandra's prophecies, or heeds her warnings about the beautiful woman known as Helen..."

I think this book, which is unfortunately out of print, would make an excellent movie for its unique feminine perspective on the Trojan War. This movie could do just as well as the movie Troy(2004) that starred Brad Pitt, if not better. The cast list is vast, so I'll only pick a few of my favorites to cast.
Morena Baccarin as Kassandra
When I thought of the grace and poise that Kassandra must exhibit, even after facing frightening visions and being rejected by one and all, I remembered the character Inarra Serra from the short-lived television series
Firefly
. Her character Anna in the current television series
V
also exhibits that grace and poise, so I knew she would be perfect for this role.
Hayden Panettiere as Helen

Helen is notoriously known to have "the face that launched a thousand ships", and the novel portrays her as being not only beautiful but strong. Hayden's character in the television series Heroes possesses an inner strength that only grows with time, which makes her that much more beautiful. The blonde locks also conveniently match how Helen is typically portrayed.

Angelina Jolie as Penthesilea

Try as I might, I could not come up with any other actress that could a better job with both playing and looking the part of the Amazon Queen Penthesilea, Kassandra's aunt and tutor for the role of priestess. Jolie's work speaks for itself - she would just have to settle for playing a supporting role. Hey, it's my movie after all.

Scott Michael Foster as Paris

The role of Paris in the novel is relatively smaller than the female parts, and happens more often in Kassandra's visions since he is her brother, so a lessor known actor for the part is a better choice. Scott Michael Foster plays "Cappie" in the television series Greek, and I personally think he at least looks the part. Paris is a major contributor to the Trojan War by falling in love with Helen and acting out of immaturity-driven desires, so Scott is a good choice for this role as a trouble-maker.