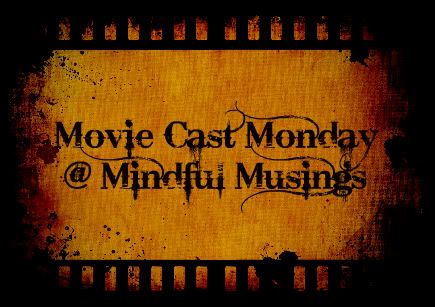 Natalie at Mindful Musings has this meme in which you create fantasy casts for books of your choice. The rules are as follows:
1) Create your own cast for an upcoming book-to-movie adaptation OR pick a book you'd like to see be turned into a movie and choose a cast.
2) Post the book title, author, and summary.
3) Try to pick at least 3 of the main characters to cast.
This week's pick is...
Thorn In My Heart (Lowlands of Scotland Series) by Liz Curtis Higgs

Two brothers fight to claim one father's blessing.
Two sisters long to claim one man's heart.
In the autumn of 1788, amid the moors and glens of the Scottish Lowlands, two brothers and two sisters each embark on a painful journey of discovery.
Jamie and Evan McKie both want their father Alec's flocks and lands, yet only one brother will inherit Glentrool. Leana and Rose McBride both yearn to catch the eye of the same handsome lad, yet only one sister will be his bride.
A thorny love triangle emerges, plagued by lies and deception, jealousy and desire, hidden secrets and broken promises. Brimming with passion and drama, Thorn in My Heart brings the past to vibrant life, revealing spiritual truths that transcend time and penetrate the deepest places of the heart.
The Lowlands of Scotland series is 4 books that retell the Biblical stories of Jacob, Esau, Leah, and Rachel, with the fourth book telling Dinah's story, all against the backdrop of Scotland. I shed many tears over these books, and found the characters to be both real and inspirational. To see the drama and romance of this story on the big screen would be wonderful.

Benjamin McKenzie as Jamie McKie

The few times I have seen this actor, such as from the television series The O. C., I have liked his style. I think he could play the part of Jamie McKie well (with a little hair dye).

Jared Padalecki as Evan McKie

Evan is supposed to be the hairier, older twin brother, which made me think of Jared from the television series Supernatural. I think that Benjamin and Jared could have good chemistry as rival brothers for the inheritance.

Let me just say that Sophia is one of my favorite actresses for her part in the television series One Tree Hill (even her weirldly scratchy voice). The story of Leana in the book is intensely moving, and I think that Sophia could really pull off the emotional aspects of it, as well as play the part of a strong woman that Leana eventually becomes. Technically, Leana is not supposed to be as beautiful as Rose, but hey, that's what makeup is for.

Camilla Belle as Rose McBride

When I realized that Camilla played Evolet in 10,000 B.C.(2008), I knew she could play this role. She looks enough like Sophia Bush that she could pass for her younger sister and display a demureness unique to the character.

To me, Michelle will always be Buffy's little sister from the television series Buffy the Vampire Slayer. As Grace, she would be playing the mute little sister of several brothers who undergoes a tramatic experience. Not anyone could play the part of a mute successfully, but I think that Michelle could.