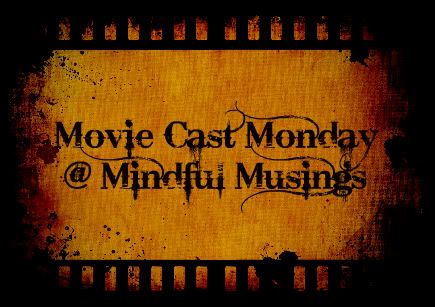 Natalie at Mindful Musings has this meme in which you create fantasy casts for books of your choice. The rules are as follows:
1) Create your own cast for an upcoming book-to-movie adaptation OR pick a book you'd like to see be turned into a movie and choose a cast.
2) Post the book title, author, and summary.
3) Try to pick at least 3 of the main characters to cast.
This week's pick is...
Maid Marian by Lisa Watson

"An irresistible reimagining of the Robin Hood legend, Maid Marian brings to life the rollicking—and romantic—world of the Middle Ages.

An orphan and heiress to a large country estate, Marian Fitzwater is wed at the age of five to an equally young nobleman, Lord Hugh of Sencaster, a union that joins her inheritance to his. But when she is seventeen, Lord Hugh, whom she hasn't seen in years, dies under mysterious circumstances. Marian is left alone again—a widow who has never been a bride. But now, like all unmarried young ladies of fortune, she is made the ward of King Richard the Lionheart. Since Richard is away on Crusade, Marian's fate lies in the hands of his mother, the formidable Queen Eleanor of Aquitaine. The bridegroom Eleanor selects will get Marian's lands and, in return, pledge his loyalty—and silver—to the king. Marian herself is irrelevant and she knows it. Determined not to be sold into another sham marriage, she seeks out the one man who can help uncover the queen's intentions: Robin Hood, the notorious Saxon outlaw of Sherwood Forest.

Marian is surprised to discover that the famed "prince of thieves" is not only helpful but handsome, likeable, and sympathetic to her plight. Robin's men intercept a letter from Queen Eleanor, from which Marian learns, to her horror, that she is to marry her late husband's brother. His family has a history of mysterious deaths, and Marian knows she is in danger. Once married, she can be easily disposed of—a fate she may have escaped once already. On the eve of her wedding, Robin Hood spirits Marian back to the forest. The Queen believes her to be dead, and Marian begins a new life with Robin Hood's outlaws, who pledge to help her regain her fortune and expose the treachery of her enemies."

This is another book that I wish would be adapted into a movie. I was reminded of it when I saw the trailer for the new
Robin Hood
movie, starring Russell Crowe.
Kiera Knightly as Marian Fitzwater

I chose Kiera for this role because I loved her in the movie Pride and Prejudice (2005), and I think the character of Maid Marian would be similar to that of Elizabeth Bennet. The strong woman she portrays in many of her films align well with the character of Marian Fitzwater.
Justin Hartley as Robin Hood

I admit that the role of Robin Hood is some big shoes to fill, with the likes of Kevin Costner and now Russell Crowe acting the part, but the film is supposed to center on Maid Marian, not so much Robin Hood, so an actor of lesser renown would better fit the part. Plus, Justin's alter-ego in Smallville - the Green Arrow - is clad in green and uses a bow and arrows. Combine that with his abs and blond locks and you've got a winning combo.

Helen Mirren as Queen Eleanor of Aquitaine

Helen Mirren has played royalty in numerous films, winner herself awards for her acting ability, so she is an obvious choice for Eleanor. Eleanor is the major obstacle for Marian in the novel, which makes her the antagonist - a role that Helen could accomplish with ease.