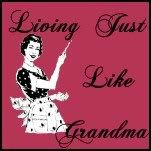 Feliciae at
Living Like Grandma
is hosting her first book review and giveaway for the book
How to Reach Your Full Potential for God
by Charles Stanley.
The synopsis is as follows:
"In How to Reach Your Full Potential for God, acclaimed pastor and speaker Charles Stanley connects readers with the plan and purpose God envisioned when He created them."Things are never going to change" or "This is just the way I am--I'm never going to get better" are just a few of the damaging lies Christians believe about themselves, their situations, and their walk. But Dr. Stanley shares the real truth as God sees it....."
The contest ends January 31st.
On a personal note, Feliciae was my best friend when I was a little girl, but we lost touch for over ten years after she moved away and we stopped writing each other. A few months ago she found me on Facebook, and just yesterday I discovered her blog. How lucky I was to discover that she was planning to post her first book review today! So of course I had to show my support for it ( and secretly hope I win the book).