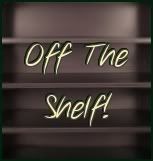 As this year draws to a close, I am beginning to think about new reading challenges that I can participate in for 2011. Hopefully, I won't go as overboard with challenge selections as I did for 2010, but no promises.
The first one that I have found is the
Off The Shelf Challenge
hosted by Bookish Ardour at
BA Reading Challenges
. This challenge is to read those books you own copies of, but have never got around to reading. If you don't have many that you own, but have a massive TBR shelf you're welcome to read those ones as long as you don't add new ones. You don't need to actually get rid of your books after you've read them, this is just to read them.
After I have read a book for this challenge, I can link my reviews back to the challenge on the
review page
. The challenge level I have chosen to tackle for now is "Trying" with 15 books. I may go up to the next level of "Making a Dint" with 30 books if I find myself doing really well. This is where I will list the books I have read for this challenge.
1.
Heavenly
by Jennifer Laurens
2.
13 Little Blue Envelopes
by Maureen Johnson
3.
Marion Zimmer Bradley's Ravens of Avalon
by Diana L. Paxson
4.
A Pointed Death
by Kath Russell
5.
Blue
by Lou Aronica
6.
Redemption
by Laurel Dewey
7.
River Marked
by Patricia Briggs
8.
The Uncoupling
by Meg Wolitzer
9.
Demon: A Memoir
by Tosca Lee
10.
Christians are Hate-Filled Hypocrites ...and Other Lies You've Been Told
by Bradley R. E. Wright, Ph.D.
11.
There's Lead in Your Lipstick
by Gillian Deacon
12.
Eternal Rider
by Larissa Ione
13.
The Life Ready Woman
by Shaunti Feldhahn and Robert Lewis
14.
The Lens and the Looker
by Lory S. Kaufman
15.
Just One Taste
by Louisa Edwards
16.
The Doctor's Forever Family
by Marie Ferrarella
17.
The Bronze and the Brimstone
by Lory S. Kaufman
18.
Savage Nature
by Christine Feehan
19.
If God, Why Evil?
by Norman Geisler
20.
Holy Guacamole
by Dan & Denise Harmer
21.
A Midnight Dance
by Lila DiPasqua
22.
The Comeback Cowboy
by Cathy McDavid
23.
Whole Foods to Thrive
by Brendan Brazier
24.
A Heart Most Worthy
by Siri Mitchell
25.
Wedlocked
by Bonnie Trachtenberg
26.
Economic Meltdown
by Karen McHale
27.
101 Gourmet Cake Bites
by Wendy Paul
28.
Pumpkin Roll
by Josi S. Kilpack
29.
Blackberry Summer
by RaeAnne Thayne
30.
Sweet Chic
by Rachel Schifter Thebault