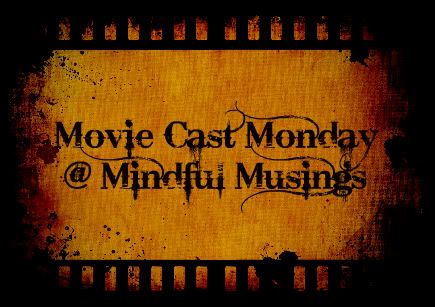 Natalie at Mindful Musings has this meme in which you create fantasy casts for books of your choice. The rules are as follows:
1) Create your own cast for an upcoming book-to-movie adaptation OR pick a book you'd like to see be turned into a movie and choose a cast.
2) Post the book title, author, and summary.
3) Try to pick at least 3 of the main characters to cast.
This week's pick is...
Moon Called (Mercy Thompson)
by Patricia Briggs
"Mercy Thompson's life is not exactly normal. Her next-door neighbor is a werewolf. Her former boss is a gremlin. And she's fixing a VW bus for a vampire. But then, Mercy isn't exactly normal herself."
I saw that this series was optioned for movies in 2008, so I thought it would be fun to pick who I think would be good choices for some of the main characters.
Jessica Alba as Mercedes Thompson
I think this could really work since she can certainly look the part, as the picture shows, with her dark skin and petite frame. Plus, she has played multiple parts in her career that demanded a more physical role, such as the Dark Angel television series.
Josh Holloway as Adam Hauptman
So I'm going through Lost withdrawals. Other than that, he clearly demonstrated his acting chops in the television series, and with a cleaner look like I found in this picture, he would be a great choice for Adam's role as both an Alpha and as Mercy's suitor.
Clint Eastwood as Zee, aka Siebold Adelbertsmiter
Except for the height issue, I think Eastwood comes very close to matching Zee's description in the books, as Mercy knows it. He could easily pull off the personality of Zee to match. Now, as for the fae side, that would obviously have to be a completely different person.
Selena Gomez as Jesse Hauptman
Even though she looks nothing like my pick for her character's father, I like this young actress for what she has shown in the new television series Pretty Little Lies. I think she could pull off Jesse's quirkiness and adaptability, and hair and makeup could take care of the rest.
There are lots of other characters that need casting, such as
Samuel Cornick
,
Bran Cornick
, and
Stefan Uccello
, but I think this is a good start.
What do you think?